Starred Dinner With The Cerea Brothers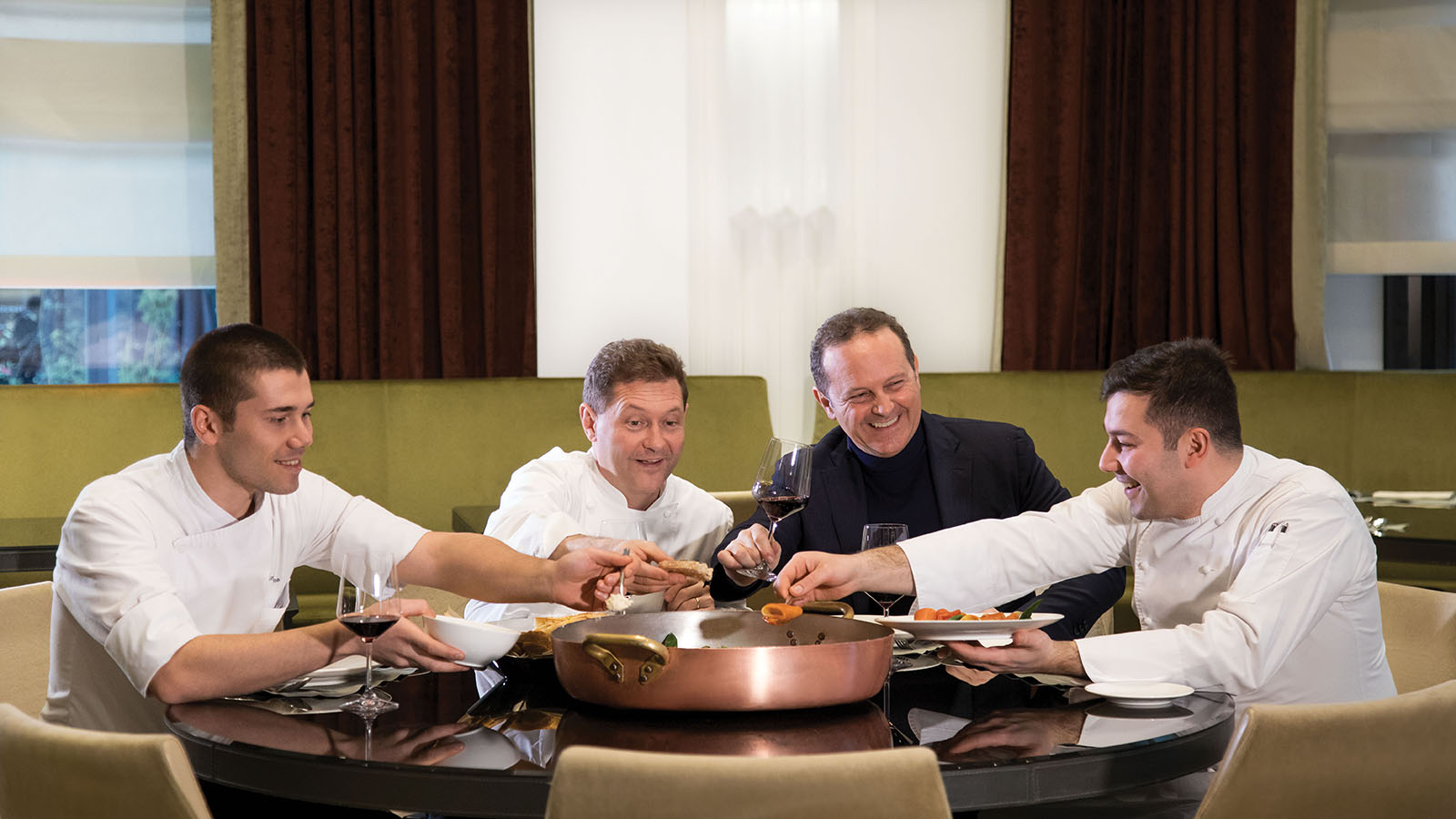 Join us in our special nights dedicated to the celebration of the most authentic first courses of the italian culinary heritage.
The dinner will be guided by the chefs Cerea Brothers of the restaurant "Da Vittorio" in Brusaporto, 3 michelin stars.
Start the exploration of these unique scents and aromas with an aperitif followed by a 6-course dinner.
Reserve your table here>
The Neapolitan Tradition
March 13
Menu Neapolitan Fist Courses dinner
3 finger food appetizers
Pasta omelet
Stuffed lumaconi snail shell pasta, sausage, friarielli broccoli and ricotta cheese
Fidelini spaghetti "alla puttanesca"
Served
Rice pudding
Baby maccheroni with tomato sauce, basil and goat cheese
Nerano style casarecce pasta with zucchini and provolone cheese
Mixed pasta with beans and mussels
Penne rigate alla Genovese
Dessert
Babà
Baby Neapolitan sfogliatella
Baby lemon delicacy
The Lombard Tradition
April 10
Menu Lombardy's First Courses dinner
3 finger food appetizers
Crispy lasagna
Arancino ball
Fidelini spaghetti "alla carbonara"
Served
Tribute to Gualtiero Marchesi, opened raviolo
Beet gnocchi with sweet zola cheese fondue
Casoncelli ravioli, corn cream, baby spinach and Bergamo sausage
Milanese risotto with marrowbone ragù
Risotto with frogs and lettuce heart
Dessert
Blancmange and red berry coulis
Soft sweet bun
Cream horns
The Cerea Brothers First Courses Dishes
May 22
Menu Cerea Brothers' Classic First Courses dinner
3 finger food appetizers
Pacchero pasta "alla carbonara"
Capelli d'angelo thin spaghetti, gazpacho and herring caviar
Pasta and beans
Served
Paccheri pasta "Da Vittorio", with cherry tomato sauce, basil and Parmigiano Reggiano cheese
Risotto with Sicilian red prawn, cherry tomatoes and Salina capers
Ricotta cheese and potatoes gnocchi with ragù
Mushroom soup, tribute to Monsieur Bocuse
Raviolo with spinach and egg yolk
Dessert
Mille feuille with chantilly cream and apple tartare
Soft sweet bun
Cream horns